TONIGHT at the Redwood Room of the historic Clift Hotel, enjoy that top-of-the world feeling you get in such an exquisite place with great company, high fashion and a gorgeous ambiance. This event is sure to sell out so hurry for the limited discount tickets via
http://jetlagdesign.eventb
rite.com/
when you RSVP
with the password RED.
10:30 Soul Performance by NKECHI Live
11:00 Photo Show by Khan Kanga
11:30 Fashion Show by G-Star
All night: Photo Booth by Gene Kosoy
DJ Nader & DJ Playdoughboy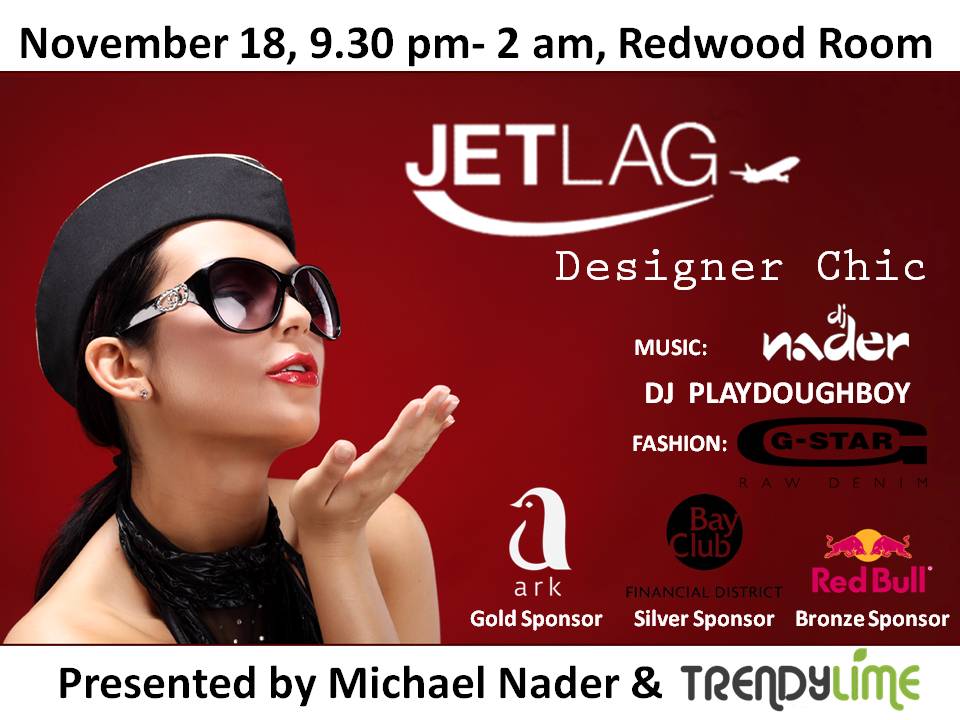 Special Thanks to the sponsors!
Ark (Gold), Bay Club (Silver), Red Bull (Bronze)
Ark,
www.ark.com
, empowers users to transform their everyday Internet activity into contributions to the causes of their choice. The Ark platform features search, media, gaming and shopping applications allowing people to continue using the Internet in exactly the same way, but now earn money for their causes, all for free and with no extra effort. Ark is your Internet for Good.
/
, is located in the heart of the Financial District and offers an array of programs, services and amenities that make it fun to stay healthy and easy to balance your work out during your work day. Bay Club is one of the privately owned clubs operated by Western Athletic Clubs, which offer the finest in quality health, sports, athletics, social/entertainment, spa, resort and dining experiences in the Bay Area.
Red Bull,
www.redbullusa.com
, world market leader and inventor of the Energy Drink Business, engages in the marketing and sales of energy drink in the whole world. Red Bull is the beverage for athletes, professionals, students - short for everybody who needs some energy - in Europe, the Americas, Australasia, Africa and Japan. The company was founded in 1987 and is based in Fuschl am See near Salzburg in Austria.
Share
|